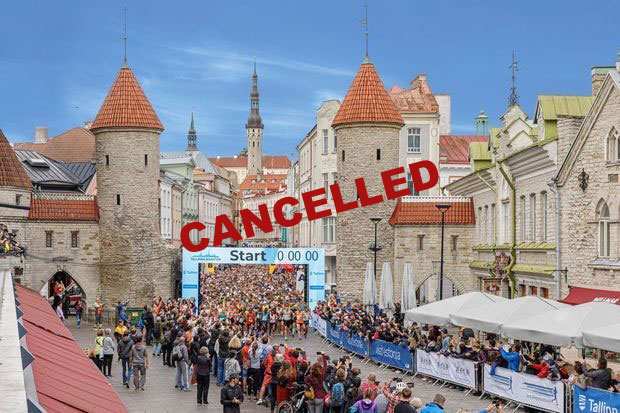 Tallinn Marathon 2020 Cancelled Due To Coronavirus
Tallinn Marathon 2020 Cancelled – Running and sports enthusiasts will be able to keep traditions of Estonia's most popular running event going and support its sustainability by taking part in the virtual run of the Tallinn Marathon between 1 September and 30 September, which includes a combined marathon that can be completed by anyone.
Due to the situation caused by the coronavirus, organisers of big events have found themselves in a difficult position. In most countries extensive restrictions and bans with respect to organisation of public and large-scale international events have been introduced in order to prevent the spread of the Covid-19 virus. International marathons and many other sports events are also viewed as a source of danger.
(FI): Tallinnan Maraton 2020 peruttu koronaviruksen takia
Koronaviruksen aiheuttamat tapaamis- ja matkustusrajoitukset sekä epävarmuus tulevasta ovat saattaneet suuret tapahtumat vaikeiden päätösten äärelle. Myös vastuullinen toiminta tapahtumajärjestäjien osalta on johtanut monien suurien tapahtumien peruuntumiseen tulevana syksynä. New York, Lontoo, Boston, Berliini, Frankfurt, Praha ja Tukholma ovat kaikki peruneet tapahtumansa tältä vuodelta, ja niin tekee nyt myös Tallinna.
"Vastuullisena järjestäjänä ymmärrämme että tapahtuma, joka tuo yhteen tuhansia vieraita ulkomailta, voi olla riski myös Virolle", myöntää tapahtumajohtaja Mati Lilliallik. "Tällaisen tapahtuman järjestämiseen tarvitaan ainakin 2-3 kuukautta, jotta saadaan varmistettua riittävä tekninen tuki tapahtumalle, korkean tason palvelut osallistujille sekä yleinen turvallisuus tapahtuman ympärillä. Jos meillä tänään olisi täysi varmuus siitä, että tapahtuma voidaan järjestää syyskuussa, pystyisimme sen vielä tekemään.